So I did a thing…
If you've been following me for awhile, you might have noticed that I took a break from social media (I do this often but I mean a BIG break) back in September of 2022 till mid-January. Basically, I was MIA from Instagram, YouTube, my website, everywhere online. So what in the world was I up to, do you ask? That's okay if you didn't ask, I'm going to tell you anyway. I WROTE A BOOK!
Yeah. Seriously. I sat down and wrote my first book in the month of September. Then you know what I did after that?
I wrote a second book.
I'm not even kidding, the book series just FLOWED. One minute I'm inspired, the next I'm powering it out in a month. Then it's a series and I'm writing the second book and you know what happened? Suddenly I have a five book series that is pretty epic, if I do say so myself. Yeah, five books.
Now I haven't begun the fifth, and at the time of this post, I'm almost done with the fourth, but I have three solid books written and ready to go. All I have to do is get them published. Turns out, there's a lot that goes into self publishing so it's taken me awhile to get that part done, but I wanted to start sharing all this with you because if you're anything like me, then you like to read. What homeschool momma doesn't?? And I believe you're going to LOVE my book series!
So what is my book series about? Well, it's a young adult, fantasy romance series set in a fictional world called Tanithor. I'm working on the blurb for the first book—it's not easy to condense the whole first book into a few summary paragraphs! So to give you a little sneak peak, I wanted to share the series title, the title of the first book, and give you a glimpse at the map of this new world I can't wait for you to visit when the book is published.
This post will be the first in my Books page on my website. On that page you will get all the sneak peaks and exclusive details about what I am writing, how the publishing is coming along, and of course, when the books are available to buy. I plan to work with Amazon and Kindle Unlimited to publish my books and I seriously cannot wait for the day I can give you the link to read it for free on Kindle Unlimited, or of course, purchase a hardback copy. Author dreams!
So without further ado, let me announce the title of the series! Drumroll please….
The Chronicles of Tanithor: Age of the Oracle
And the title of book 1:
A Bounty of Secrets and Rebellion
Ahhh so exciting! So I know this isn't much to go on. But if you like fantasy romance books with princes and princesses, multiple points of view, elemental powers (water, earth, fire and air), and action packed chapters with cliff hanger endings, then you are going to love my book! I promise! All of my beta readers have RAVED and I know you will too.
Now let's check out the world of Tanithor. So basically I drew this map by hand, but I'm working on making it look cool and fancy with a map-making program I found, however that's still a work in progress. So today, you get to see the original map!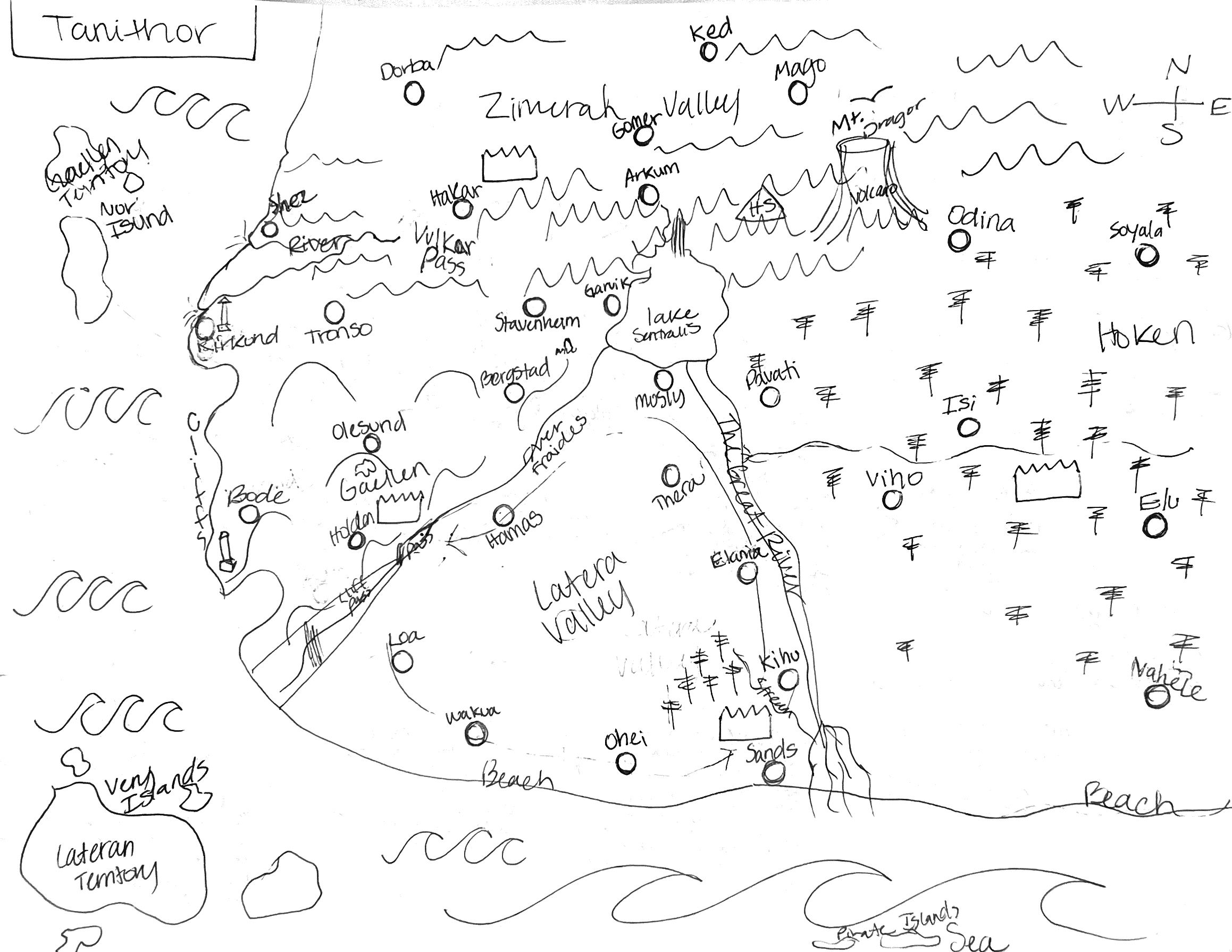 Ta-da! I know it's messy, but how cool is that! You'll get to see the transformation from this hand written map, to a pretty and legitimate map!
So what are we looking at here? Well there's four kingdoms: Latera, Hoken, Gaellen and Zimerah. A Bounty of Secrets and Rebellion begins in the kingdoms of Hoken and Latera, but the series will ultimately take you to all the kingdoms!
So there it is! The crazy thing I did when I took an extended break from social media. I'm an author now! Soon to be published-hopefully 😉 I'm excited to take you on this journey with me! Thanks for following along and don't forget to follow me on Instagram and YouTube. I'll be sharing all the things on those platforms as well!