Note: This deleted scene from A Bounty of Secrets & Rebellion was originally part of the book tour and was first shared on Aimee Brown's website.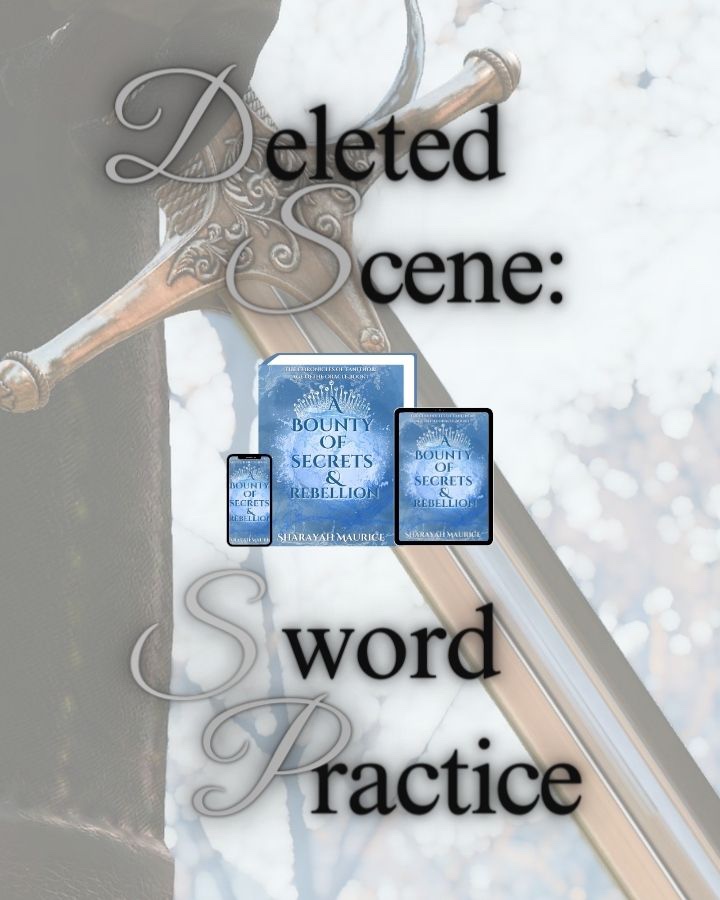 This scene takes place just before chapter twenty-two in A Bounty of Secrets and Rebellion. I decided to cut this scene because I originally thought Menard would play a bigger role in the overall series and wanted to give some background into his character. However, I realized later on that he did not have the spotlight I initially thought he would and so decided to take this scene out in order to not add more than was necessary to the main storyline. I hope you enjoy this deleted scene from A Bounty of Secrets & Rebellion!
There was a cough and a grunt and Koa looked up from his painting to see Menard sitting up in bed. "What time is it?" he croaked, rubbing his eyes.
Koa glanced out the window. "A little after mid-day."
"Dang night shifts. They get me all messed up," Menard grumbled, stretching out his arms and neck. Koa leaned back over his work as Menard slowly stood up and made his way over to Koa's corner of their room. He peered over Koa's shoulder at the canvas. "That's good."
Koa frowned. "It's not turning out how I want it." He set his pallet down and let out a breath of frustration.
"Want to come train with me? It's what I do when things aren't working out how I want," Menard asked, grabbing a fresh shirt and switching out the one he had on. Koa briefly glimpsed big, black tattoos all over Menard's upper body.
He nodded, quickly putting his supplies away and followed Menard out to the training grounds.
It was a cooler afternoon. Between the hot sun and crisp breeze that blew on the wind, the temperature was perfect for staying cool while training. Menard brought Koa to the center ring for some sword practice. As they faced off, swords at the ready, Menard asked casually, "So, you've been taught sword play, huh?"
And then he lunged at Koa.
Koa grunted as he quickly blocked the move and came back at Menard with his own. "Yes." Clang! "Where did you learn? The Academy?"
Menard stepped left and swung his sword, steel on steel crashing as the blades met between them. "Yes. I was the top of my class," Menard boasted with a gleam in his eye.
Koa raised a brow as he caught the challenge in Menard's expression. He quickened his pace, swinging his blade to the right as Menard lunged left to parry his attack. As he stepped, Menard turned his foot out and Koa tripped, sending his sword flying up as he went down to the ground. Menard caught his sword and smiled proudly. "Want to go again?"
Koa peered up at him with a grin, retrieving his sword from Menard's outstretched hand. Getting back to his feet, they took their positions in the ring and started again. Koa kept his eyes on Menard's movements, learning from him as their blades met again and again. Koa managed to hold his own longer this time, but his energy was giving out. Late nights and full days were taking its toll. Finally, Koa yielded, out of breath and beginning to sweat despite the coolness of the breeze.
Menard lowered his sword with a wolfish grin. "Not bad, buddy." He turned around and waved Koa over. "Let's get some water."
Koa matched Menard's stride as they made their way to the water barrels. Eyeing the bulky man, Koa pegged him to be in his late twenties, early thirties at most. He had hazel eyes and short, cropped light brown hair. As Koa took a sip of water, he spotted the the dark black markings peeking out from under his shirt. "What's with all the tattoos?"
Menard gulped back his water and hissed a sigh of relief. He took a seat on the bench, looking out at the soldiers on the training field. "The tattoos are symbolic of major events in my life. They each tell a story of how I came to be where I am now. It's a tradition back where I'm from."
"Where are you from?"
"The Very Islands. My family and I actually came over with Queen Malia when she married the king. My father was her body guard which was why we came. Plus, my mother was a good friend of the queen's mother. I think she wanted to be able to look after the queen."
"So being a guard is a family business?" Koa commented, and Menard smiled. "I guess you could say that."
Koa took a seat next to Menard on the bench. "What are some of the major events in your life?"
Menard leaned forward, resting his elbows on his knees. "I have one for when I left the Very Islands. There's one for completing the Academy. I have one for when I was accepted into the king's army, and I plan to get one for being promoted to the princess' guard."
Koa had considered getting a tattoo many times. Being an artist, he had thought of many designs he might like to have inked on his body; however, tattoos were permanent. There was no way to erase them. What if one day he no longer liked the permanent marking he'd gotten? It was because of this that he never ended up getting one. "Have you ever regretted a tattoo you've gotten?"
Menard was silent for a moment before he pulled down the collar of his shirt to reveal a large tattoo over his heart. The design comprised intricate little dots that formed the center and spread out wider and wider. Lines then encircled the dots and flowed out over his chest, curling up to his shoulder and down to his ribs, creating the shape of a flower. "This represents my ex-fiancé. We got them the night I proposed. Then, long story short, I realized she wasn't the one and called it off."
Koa glanced at Menard sidelong. He shrugged and released his shirt, covering the flower so that only a small tendril peeked out of his collar. "I don't regret it though. It serves as a reminder that if I ever want to propose again, it will be with forever in mind and she has to be worth forever."
I hope you enjoyed this deleted scene from A Bounty of Secrets & Rebellion! You can find more bonus material here, or purchase a copy on Amazon here.