Note: This character interview was originally a part of A Bounty of Secrets and Rebellion book tour bonus content and was first shared on Batty's Mamma Reads website.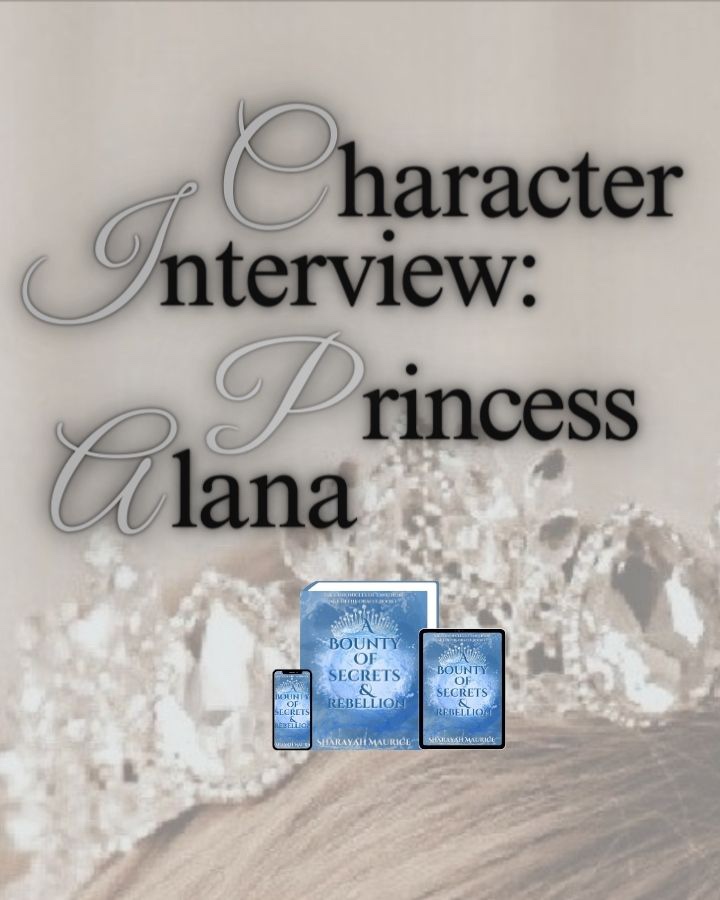 Wow, I'm so excited to sit down with an actual, real live princess. This is so exciting. Thank you so much for joining me today!
It's so nice to be here, thank you for having me.
Why don't you start by introducing yourself?
Okay, well hi. My name is Princess Alana Bell Sundry. I'm the second-born daughter to King Declan Sundry and Queen Malia Sundry who reign over the kingdom of Latera in Tanithor.
You're turning sixteen soon. Can you tell me how you're feeling about your upcoming birthday?
I've tried not to think too much about it. It's a big event for me. Not only is it when I officially join the age of majority, but my betrothed will be arriving to take me to his home kingdom. If I think of all the changes that are coming my way, I'm afraid I'll be too overwhelmed.
That's understandable. How do you plan to celebrate then?
My mother is in charge of all the celebration plans. I'm not particular about the details, and she was happy to take on the task, so I let her take it over.
It sounds like you are close with your mother?
Oh yes. I'm very close with my mother. We often go shopping together in Sands. It's one of her favorite activities.
So do you like to shop too?
Not really. I just like spending time with Mother. Seeing her happy makes me happy.
That's so sweet of you. So, where is your favorite place to visit in Latera and why?
That would be the beach. The Lateran coast is just beautiful. The cold, salty water is so refreshing under the hot, Lateran sun and I love building sandcastles! I go with Mother once a week at least.
What is a special talent or skill you have?
Let's see…oh, I like to design dresses! One of my favorite seamstresses has a knack for hearing my design ideas and bringing them to life. I tried to draw her a picture of this dress I'm currently wearing, but she said I was better off just describing it to her. Apparently, my drawing skills are that of a toddler's—in her words.
So drawing would not be on your list of talents or skills?
No, definitely not!
All right, what do you like to do in your free time?
Well, visit the beach, of course. I also enjoy reading. Mysteries are my favorite. Hmm, I like to sleep. Does that count?
Sure! You're the princess. Speaking of which, what was it like growing up as a royal princess?
It's had its ups and downs. I'm grateful for the privilege of all that's been open to me. I've never truly wanted for anything and I recognize that's a gift in itself, but it was honestly a little lonely. I had my nannies when I was younger, and then my tutors, and of course all the noble families when they'd come to the palace for various things, but mostly it was just me and my parents. As royalty, it seems we live a life of seclusion most of the time.
Okay, I have one last question for you. What is it like to have the gift of water?
That's kind of like asking me what it's like to be able to breathe, or walk on two feet. For me, having the gift of water is just part of who I am. I do enjoy playing with the element. That's another reason I enjoy visiting the beach. Lots of water with which to play!
Well thank you so much for taking the time to sit down with me and answer my questions. It was so nice talking with you!
Thank you very much. The pleasure was all mine.
I hope you enjoyed A Bounty of Secrets and Rebellion character interview of Princess Alana! You can find more bonus material here, or purchase a copy on Amazon here.