Note: This deleted scene was originally a part of A Bounty of Secrets and Rebellion book tour and was first shared by Julie on her website.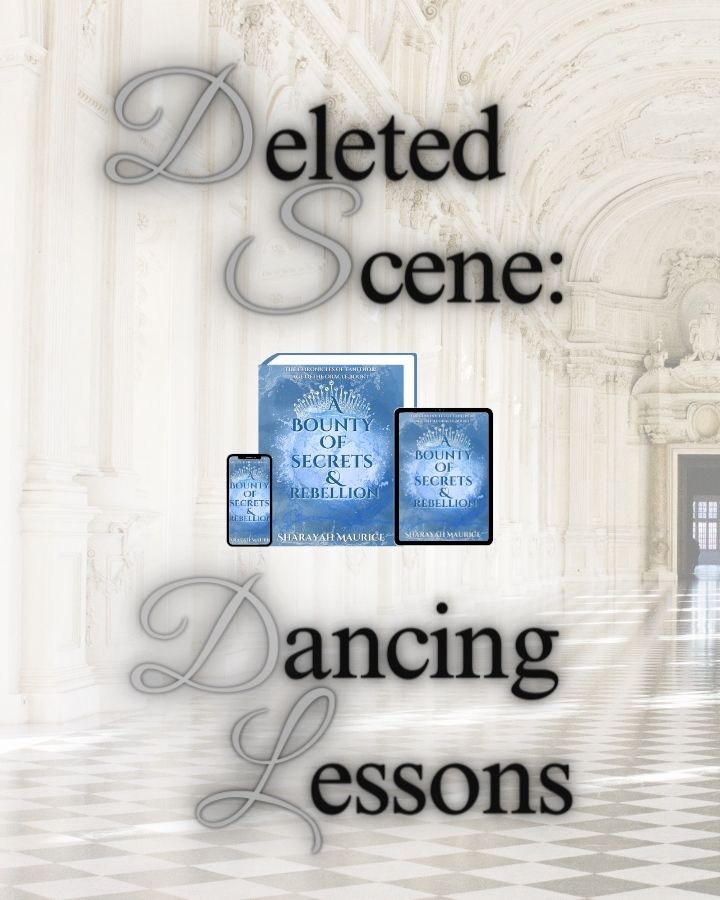 This scene between Alana and Koa is mentioned in chapter twenty-seven of A Bounty of Secrets and Rebellion. I chose to cut this scene and merely reference it when I could not properly fit it in around Griff's chapter. It was a sweet scene and I am sad that it had to be cut, but I am glad I found a way to still share it as bonus material. I hope you enjoy A Bounty of Secrets and Rebellion deleted scene down below!
Alana giggled as she watched Koa for the hundredth time stiffly place a hand on Lady Olani's upper back while he tightly clasped her hand in the other. With her birthday celebration quickly approaching, Alana thought it best that Koa be given a little dancing instruction in preparation for the event. After just a few minutes in the empty ballroom, it was obvious she had been right to suggest such an activity.
Apparently the man had never danced a day in his life. He was all elbows and knees as he tripped over Lady Olani's feet, apologizing repeatedly. It seemed as if he only continued to get worse with each passing minute. Alana could tell Lady Olani's patience was wearing thin. They had been at it for an hour with seemingly no progress.
"Forgive me, Your Highness. I'm afraid there's not much more I can do for him." Lady Olani stepped back from Koa with a puckered frown. "Perhaps it's best if he refrains from dancing at the celebration. He could end up hurting someone." She pursed her lips and looked Koa up in down in disapproval.
Alana bit back a laugh. "Thank you for trying anyway."
Lady Olani dipped into a graceful curtsy and breezed out of the ballroom without a backward glance.
Alana looked over at Koa who had his hands on his hips, a crease between his brows. "I was doing what she said to do."
She made her way over to him with a grin. "Of course you were. Here, let's see how you do with me."
She raised her hands expectantly and Koa inched forward, fitting one hand in hers as she grasped his strong shoulder with the other. He pulled her in, their bodies just grazing the other. Butterflies erupted in Alana's stomach. She took a deep breath, determining to stay focused on the dance and not Koa's nearness.
She remained still, waiting for him to take the lead. They stood there for what felt like forever, and Alana wondered if he'd forgotten how to move his legs when he finally caught on and took a cautious step forward. Immediately she mirrored his step and smiled. "That's it! You just have to take the first step. I'll follow you."
Koa beamed in victory and began moving more confidently, taking one step after another as they slowly turned around the ballroom. Occasionally he took a step in the wrong direction, but Alana didn't correct him. She allowed him to lead her around so he could get used to the sweeping movements of the dance.
After a few turns, she paused and said encouragingly, "That was great! I don't know what dance it was but we were moving."
Koa groaned, looking up to the ceiling. "I thought I had finally gotten it."
"Well you've got it mostly. Leading confidently is key. It allows your partner to follow easily. Now you just have to get the right steps. It helps to memorize the order. Forward, right, together. Back, left, together. Repeat."
Koa muttered the order of the steps and tried again.
Alana smiled at the improvement. "See, I knew you'd get it."
"I'm sorry it took me so long. I really did do what Lady Olani was saying, but I think she kept trying to lead me."
Alana giggled with glee. "Yes, she kept leading you but it was fun to watch!"
Koa stopped dancing and eyed her suspiciously. "Why didn't you say anything then?"
"You should have seen the two of you!" she cackled in mirth. "It was quite the spectacle. I should thank you for this afternoon's entertainment."
Koa clucked his tongue and began leading her around the room again. "You wound me. Finding joy in my suffering."
Want more bonus material from A Bounty of Secrets and Rebellion? Be sure to check out this post for another exclusive deleted scene! If you haven't already, you can purchase the book on Amazon, or add it to your TBR list over on Goodreads.