I always wanted to commit scripture to memory, but I could never stick with it. It wasn't until I finally got serious and found a system that helped me keep track of my scripture memory progress that I finally have managed to memorize a handful of verses. Today I'm sharing that system with you.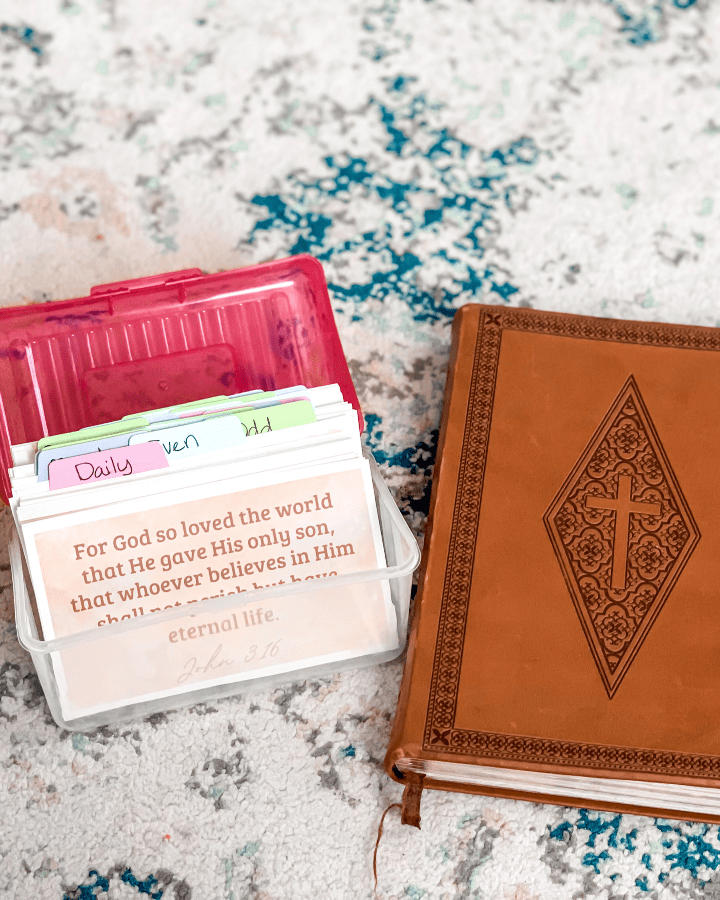 Memorizing scripture is actually not very hard. For me, the problem is remembering to review what I've memorized so as to keep it in long term memory.
When you regularly review material you have memorized, this process tells your brain that the information is important and you need it forever. So your brain takes that information and puts it into your "never forget" filing cabinet. The only thing is, you have to keep reviewing it, or your brain will remove it for other more important information you use more often.
I always think of the movie "Inside Out" when Joy is in the long term memory section of Rylie's mind. There's a part where they are reviewing the information stored there and start throwing away old phone numbers she doesn't use. That's exactly how it works!
So the key to memorizing scripture is having a good review system and I've got the perfect one! It's actually based on the system created by the genius' behind Simply Charlotte Mason. You can read more about it here if you want, or keep scrolling for details!
Disclaimer: This post contains affiliate links. If you click on one of them, and make a purchase I'll receive a small commission at no additional cost to you. Learn more about my disclosure.
What you need
This is a pretty simple system and fortunately doesn't require too much. You can put the whole thing together for super cheap!
Setup
First, you'll take your divider tabs and label them. I'll go ahead and list out each tab for easy reference.
Daily
Even
Odd
Monday
Tuesday
Wednesday
Thursday
Friday
Saturday
Sunday
Numbered 1-29
Ok so for the days of the week, you can customize this based on when you review your scripture. We only do it on school days, so for us I have tabs labeled Monday, Tuesday, Thursday and Friday. We don't review on the weekends.
You could also do the numbers 1 to 31. I'll explain what they mean in a minute.
Now go ahead and write out the scriptures you want to memorize on your index cards. Need help deciding what to start with? I created a set of scripture memory cards with 16 different verses to get you started. These are the verses I personally started me and my children off with. Fill out the form below to grab a copy.
Finally, place your tabs, in the order I listed above, into your index holder. Then take your scripture cards and place them in front of the 'daily' tab. Choose the first scripture you want to memorize and put it behind the 'daily' tab.
How to review
Now that you have your review system set up. You're ready to start memorizing scripture!
Every day, you'll open your holder and recite the 'daily' scripture. Once you've memorized it, you'll simply move it back behind the 'even' tab. Then you'll place your new scripture verse behind the 'daily' tab.
Now, you'll recite your new scripture and review the old one every even day. This means that you'll be reviewing your old scripture every other day.
As you keep memorizing and moving your cards back, you'll have a total of 4 cards you'll be reviewing each day. Your 'daily' card, an even or odd card, the day of the week, and the date.
So for example, if today is Tuesday, October 3rd, I'll review my 'daily' card. Then, since 3 is an odd number, I'll review the card behind the 'odd' tab. I'll review the 'Tuesday' scripture. And finally, I'll review the card behind the number 3.
Customize it
When you start, you won't have much to review. Or, if you want to buff out your system, you could fill the tabs with scripture you may already know and finally start storing them in long term memory.
Now as I mentioned, you could customize the days and numbers on your tabs. I've only numbered mine to 17. Since we don't review every single day, if I included a 'Wednesday' tab, we would never review it. Likewise, this means that we will skip some numbers in the month. It's not a perfect system since we don't review every day, but we review enough that it stays in the brain.
If the day happens to be 31, I'll just review the cards in slots 3, and 1. Some months we won't cover a few numbers but when you look at it over a lifetime, you will have reviewed the scripture way more than you otherwise would have. Success!
Want to see what this system looks like in action? Here's a video of us reviewing our verses during our morning basket.
Pin for later