Today I am going to share my Math Lessons for a Living Education Level 1 review. There are so many math programs out there. It's important to find a math program that fits your style and I hope this Math Lessons for a Living Education Level 1 review helps narrow down your options.
In case you are unfamiliar with Math Lessons for a Living Education, it is a Charlotte Mason inspired math curriculum by Masterbooks. You can get this curriculum online HERE, or at your local school supply store.
Personally, I picked my copy up at our local Mardel for 20% off.
I had never heard of this curriculum before. It wasn't until I did a bit of research and watched a few flip-throughs on YouTube that I first heard of Math Lessons for a Living Education (let's just call it MLFALE because it's a lot to type) from the YouTube Channel, Homeschool On. Rebecca did a great overview of it HERE.
Why we love it:
The approach
First of all, I've heard it say that this program is a "gentle approach" to mathematics and I couldn't agree more.
MLFALE IS a gentle approach, but don't confuse that with it being too easy. While some of the level 1 skills that are taught seem to be pretty easy, there are definitely some advanced concepts that are introduced, sooner rather than later… ie. place value.
Now my son started level 1 at 4 going on 5 years old… maybe you think that's too early but the beginning of level one has some very basic level mathematics. We covered counting to ten, basic shapes and patterns (all of which he already knew) so for us, level 1 was the right starting point.
I wasn't sure if he would be ready for some of the skills taught towards the middle/end of the book, but the way this program introduces everything, up to this point, he has surprised me time and again with his ability to pick up the concepts quickly!
It truly is a gentle yet effective approach.
The structure
MLFALE is laid out in 5 daily exercises for each lesson. Sometimes those exercises are only 1 page, sometimes they are 2, at most.
We start each week with a little story that introduces the new skill and then work on the corresponding exercise.
I have loved the story we are working through. It is very biblically based and as we follow the adventures of twins Charlie and Charlotte, they exemplify a lifestyle that we also live. That of experiencing God and His creation all around us.
I personally love curriculum that does this. God is a part of everything we do and experience so reinforcing this through educational curriculum just makes me so happy.
Homeschooling allows me to put God where He belongs in our learning experience. At the center. And MLFALE makes it easy to do.
Each exercise consists of various activities designed to help demonstrate and strengthen the new skill. There's heavy copy work; a true Charlotte Mason learning method. My son is tracing numbers pretty much everyday, and there's continuous repetition in mathematic skills. The more practice the better!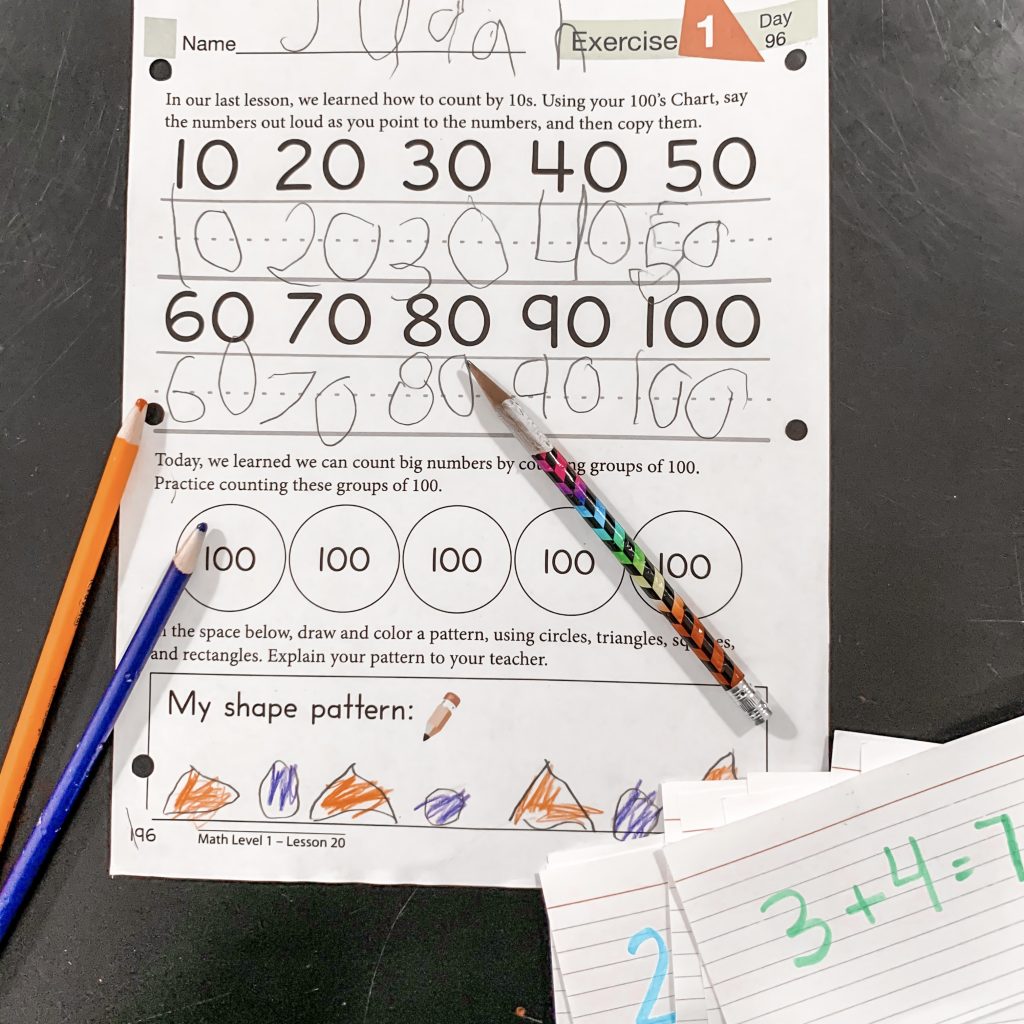 There is a lesson plan schedule, based on a 36 week school year, however we do not follow this plan. Since we only school 4 days a week, we end up doubling up on one day during the week.
This has worked well for us as there is always one exercise that is fairly short so doubling up doesn't overload him. If all the lessons that week are 'longer' than usual, we just do the 5th exercise on our off day. That has really only happened once or twice.
The content
I've kind of touched on this throughout this post but I just wanted to dedicate some time to really dive in to what exactly he has been learning.
Like I said, the beginning of the book is very basic stuff, even preschool/kindergarten level in my mind. Things like 0-9, shapes and patterns. The first section is a good amount of review from the previous level.
The program then progresses to some more complex mathematics. A quarter in to the book and we're introducing place value and addition. Midway through the book, we're covering place value up to 100, counting by 2s and 5s, tally marks, and solving for an unknown.
As of this post, next week we're covering time, then it will be on to simple fractions and subtraction. That's some truly higher level learning for level 1! My son, not even in kindergarten by public school standards, is way above the track in math.
The last 6 chapters are devoted to reviewing to allow us to really master the skills before moving on to the next book. If the next level is anything like this book, I imagine the first few chapters will be review as well. So he's getting lots of practice!
Conclusion
I most definitely intend to continue on with this curriculum. And what's so great about it is that all I need is the one book. I don't need extra resources or manipulatives. There's just the one book and everything I need to give the lessons within it.
If you're looking for a solid math program that brings the subject to life in a realistic and Biblically based way, then Math Lessons for a Living Education does that.
If you've been on the fence about this program I hope this Math Lessons for a Living Education review helped you come to a decision. At the very least, I'd say it's totally worth giving it a try.
Need a good handwriting curriculum suggestion? Check out my review of A Reason for Handwriting Level K HERE.
Pin for later