In todays' post I'm sharing my homeschool preschool plans for my three year old for the 2021-2022 homeschool year.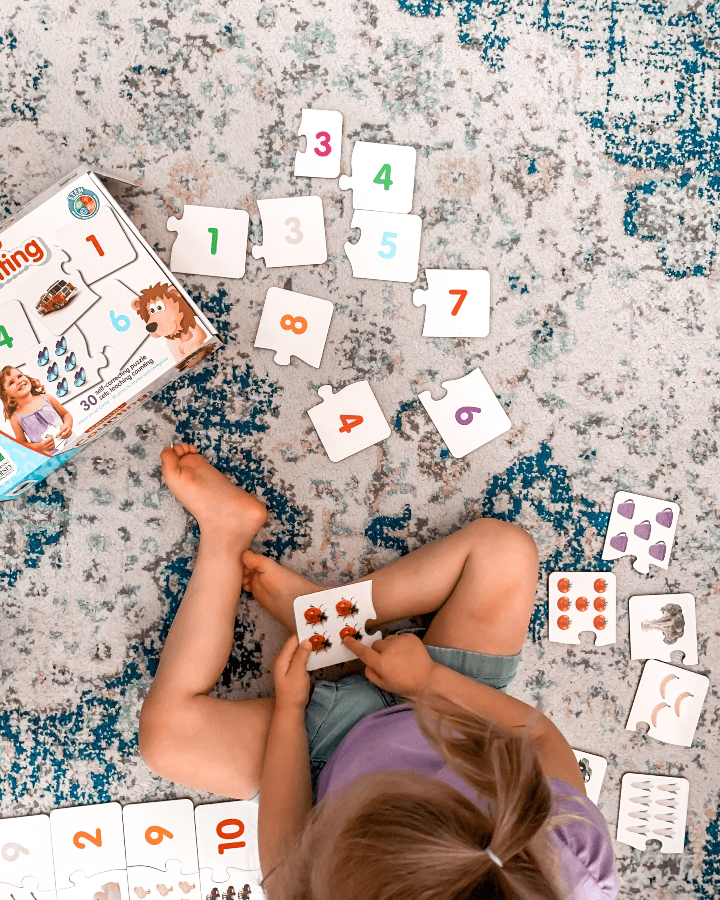 My daughter has always insisted on 'doing school' with us, ever since my son officially started homeschool. As a classical educator, it was easy to incorporate her into our school day by just having her sing the memory work with us or watch the educational videos I put on for my son.
However, as time has gone on, she has requested more and more to do the kind of school my son does. It's interesting, my son had no interest in worksheets when he started school but my daughter can't wait to have her own workbooks!
So this year, I decided to put a plan together for her homeschool preschool.
Classical Preschool
The first thing I plan to do for her is actually continue what we have been doing. Memory work. We follow Classical Conversations and the memory work is amazing. My daughter has already memorized so many wonderful facts about history, science, geograghpy and so much more!
It makes my heart leap for joy when, while she's putting puzzles together she's naming the president's through song or at the dinner table she starts listing the places in the Fertile Crescent. Classical Conversations is crucial to my homeschool preschool plan for her this year.
Language Arts
Last year I took her through my letter of the week 'curriculum' which is really just an assortment of free printables I find on Pinterest and YouTube videos about each letter. This year, I plan to take it up a notch as she already knows all the letters and their sounds. The foundation for reading is there so I plan to cultivate that with beginning reading lessons and practice. I haven't decided if I will use a curriculum at this level or not but for now we will keep practicing what she knows.
For writing, I want to mix it up with different types of writing practice. Currently she is having fun going through a write/wipe pre-writing book. I plan to have her practice writing her letters in sand, play dough, shaving cream, etc. just to keep things fun. I'll also have her trace her name and the date, daily. She will practice using scissors and glue to sharpen those fine motor skills.
Math
This year I decided to get her an actual math curriculum. I did a flip-through video on my YouTube channel if you would like to see what she thinks of her workbook. Here's a clue, she just had to have a look through the pages!
I chose Math Lessons for a Living Education by Masterbooks because that is the curriculum I chose for my son and we have LOVED it. You can read all about it in this post. She will be working through the Level K book, or "The Fish Book" as she likes to call it and I'm very confident that it will be the perfect level for her current skills.
Since she is so young, we will really only be working through this book at her own pace. ie, when she feels like 'doing school.' Since this is the only 'workbook' type school work she will be doing, I want to keep it really low-key and fun. Honestly, I'd give her two years to finish the book but I wouldn't be surprised if she just eats it up. That's just her personality.
General
I've always included my daughter in our Bible time so I plan to continue with that. I plan to write a post on exactly how I do Bible time with little ones so be sure to sign up for my newsletter to be the first to catch that post.
She will also sit through our circle time and morning basket (in as much as she is interested in doing so.) So calendar, seasons, poetry, recitations, etc will all be met there.
I'll be sharing videos on my YouTube channel on how we will be doing circle time and morning basket this coming school year so if you're not already subscribed, head on over to my channel and subscribe so you will be updated with all my new videos.
Conclusion
This may sound like a lot of stuff for a three year old but in reality, it's not as rigorous as you might think. If I were to time exactly how long we do school type work in a day, it would probably be less than 4 hours for my son and less than 2 for my daughter. I'm a firm believer in learning through play and by experiencing the world around us. My daughter spends lots of time outside and playing around the house with her brother and sister. So these homeschool preschool plans are mostly so that I will have something to offer her to when she asks if she can do school on any given day.
Pin for later